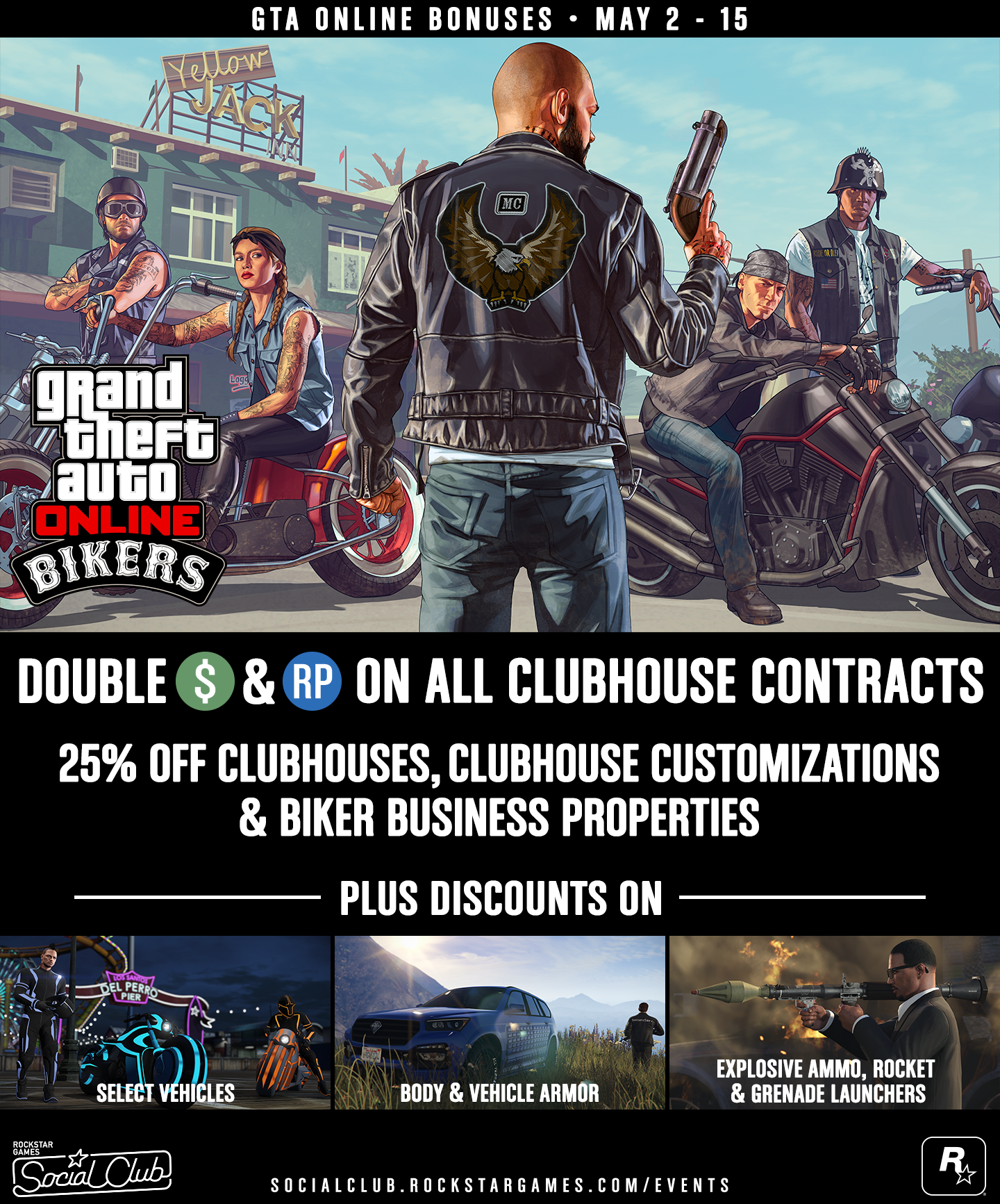 Starting today, it's ride or die for the MCs of Los Santos with money-making opportunities and discounts to help you get a leg up over your rivals. We're also keeping the party going with extended bonuses on Tiny Racers & more, so be sure to read on for the full rundown below.
BIKER DISCOUNTS AND DOUBLE GTA$ & RP ON CLUBHOUSE CONTRACTS
Through May 15th, Motorcycle Clubs of Los Santos will benefit from a GTA$ & RP boost when running Biker Contract Missions - you can find and launch these lucrative missions from the meeting room in your Clubhouse. If you're a budding entrepreneur with an affinity for leather and yet to set up your MC, we've got you covered with a 25% discount on:
Biker Clubhouses
Biker Clubhouse Customizations
Biker Business Properties
25% OFF SELECT VEHICLES
Whether you're looking to expand your vehicle collection or diversify your airborne portfolio, grab a 25% discount on the following fan-favorites:
Nagasaki Shotaro
Progen T20
Western Company Annihilator
Nagasaki Buzzard
Karin Technical (both prices)
Vapid Desert Raid
Vapid Trophy Truck
DISCOUNTS ON WEAPONS, AMMO & ARMOR
Beef up your personal armory and protect your neck with a 25% discount on:
Vehicle Armor
Bullet Proof Tires
Body Armor
Explosive Ammo (including throwables)
Rocket Launchers
Grenade Launchers
EXTENDED BONUSES
Keep the cash flowing by jumping into GTA Online today for a 25% increased payout on Special Cargo Deliveries (thru May 15th) and Double GTA$ & RP on Tiny Racers (thru May 8th).