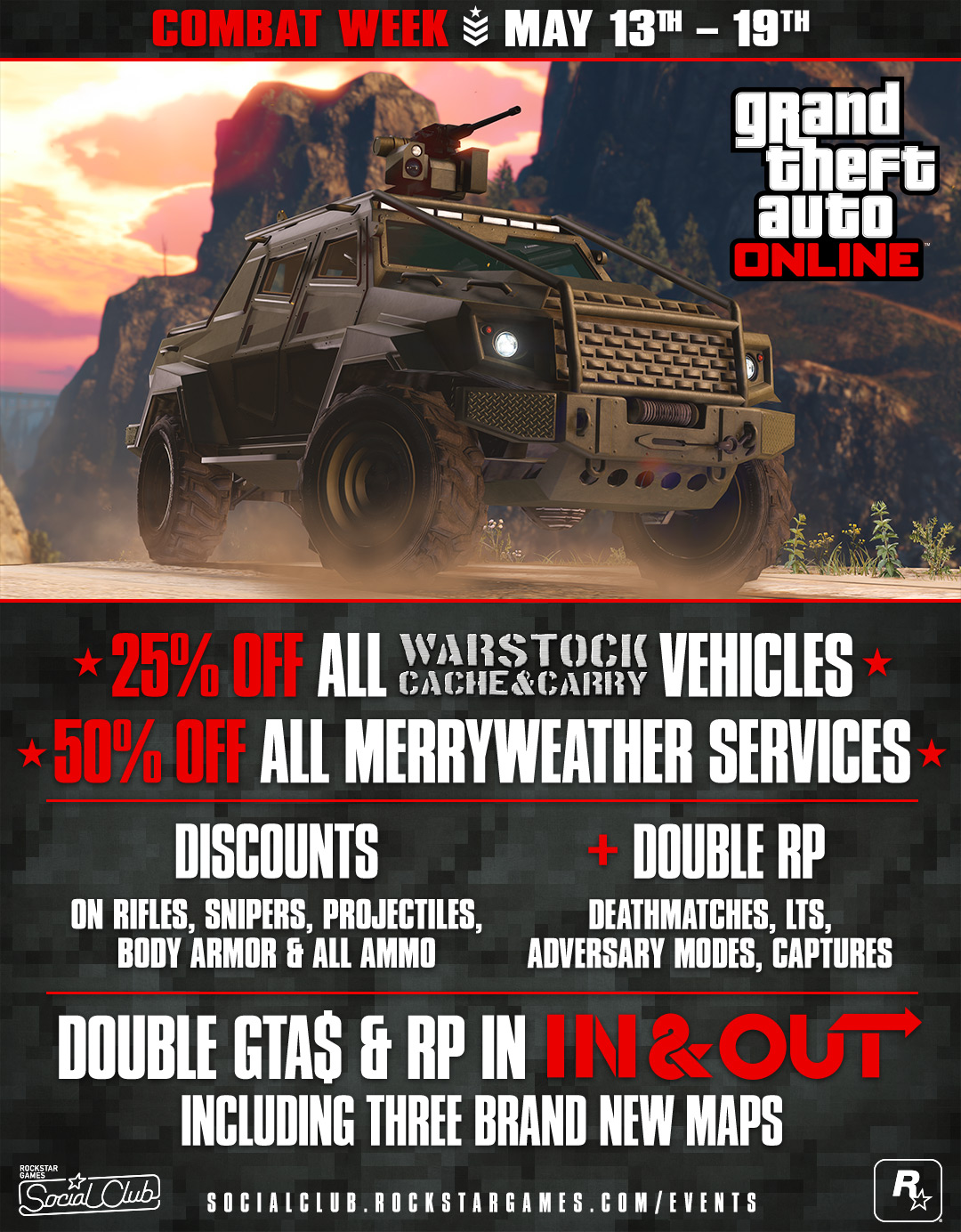 Squad up and be ready to hit the streets of Southern San Andreas with everything you've got. For the next seven days it's Combat Week in GTA Online, featuring big discounts on heavy artillery and military vehicles from Warstock. The fine people at Merryweather & Ammu-nation are also contributing to the carnage with sales on select goods & all services. Should you be a little light on cash or RP, there's Double GTA$ & RP available for playing In and Out (including 3 brand new maps just released today to try out) and Double RP on plenty more modes besides. Read on for full details.
25% OFF ALL WARSTOCK VEHICLES
Whether your vehicle collection is missing a HVY Insurgent (Armed), Mammoth Hydra or the humble Zirconium Journey - now's the time to put the jewel in your garage's crown with 25% discounts on all Warstock vehicles. This includes the Turreted Limo, Buckingham Valkyrie and, of course, the Rhino - perfect for protecting yourself and your loved ones during Combat Week. Order these brutish vehicles from the Warstock Cache & Carry website, accessible via your in-game iFruit.
50% OFF ALL MERRYWEATHER SERVICES
Found yourself in a tight spot? Call on Merryweather for a few reinforcements, some emergency Ammo or a quick escape vehicle this week with prices for all of their services slashed by half. This includes Pickups via sea and air, Backup from a Helicopter or Mercenaries and targeted Ammo Drops and Airstrikes.
AMMU-NATION SALE
Make sure you're completely locked, loaded and all-out strapped for the week's combat with generous discounts from Ammu-nation:
All Rifles – 25%
All Snipers – 25%
All Projectiles – 25%
All Ammo – 25%
Body Armor – 50%
DOUBLE GTA$ & RP WHEN PLAYING IN AND OUT MODE
For those enjoying the challenge of deftly wresting contraband away from trigger-ready Defenders, or from the daring runs required to retrieve them as Attackers, you can earn Double GTA$ & RP while playing In and Out all this week. This includes the three brand new maps that just launched today, and applies to the mode no matter where you're playing it - whether in your own Playlist, the Rockstar Created Playlist launchable from the GTAV boot screens till Sunday, or simply as a one-off invite from a friend or foe.
DOUBLE RP DEATHMATCHES, LTS, ADVERSARY MODES, CAPTURES:
In addition to the bonuses available in In & Out, there's also Double RP to be gained across ALL Deathmatches, Last Team Standing, Captures and Adversary Modes in GTA Online. Whatever form of combat you prefer getting stuck into, play it safe in the knowledge you'll be raising your rank on the double.
BONUS GTA$ & RP PLAYLISTS
To quickly dive right into gameplay and reap immediate GTA$ and/or RP bonuses, load up the daily Playlists from the GTAV boot screens featuring a variety of Adversary Modes. Today through the weekend, the launch screen Playlist will reward Double GTA$ & RP for playing new In and Out maps; Monday through Thursday it will include a selection of combat-heavy Double RP modes. Be sure to follow us on Twitter, Instagram and Facebook for reminders of the Playlist schedule, so that you don't miss out:
Double GTA$ & RP Playlist
Friday May 13th through to Sunday May 15th
Brand new In and Out IV, V and VI maps
Double RP Playlist
Monday May 16th through to Tuesday May 17th
Cross The Line I, Come Out To Play V and Till Death Do Us Part II
Double RP Playlist
Wednesday May 18th through to Thursday May 19th
Extraction V, Beast vs Slasher IV and Siege Mentality I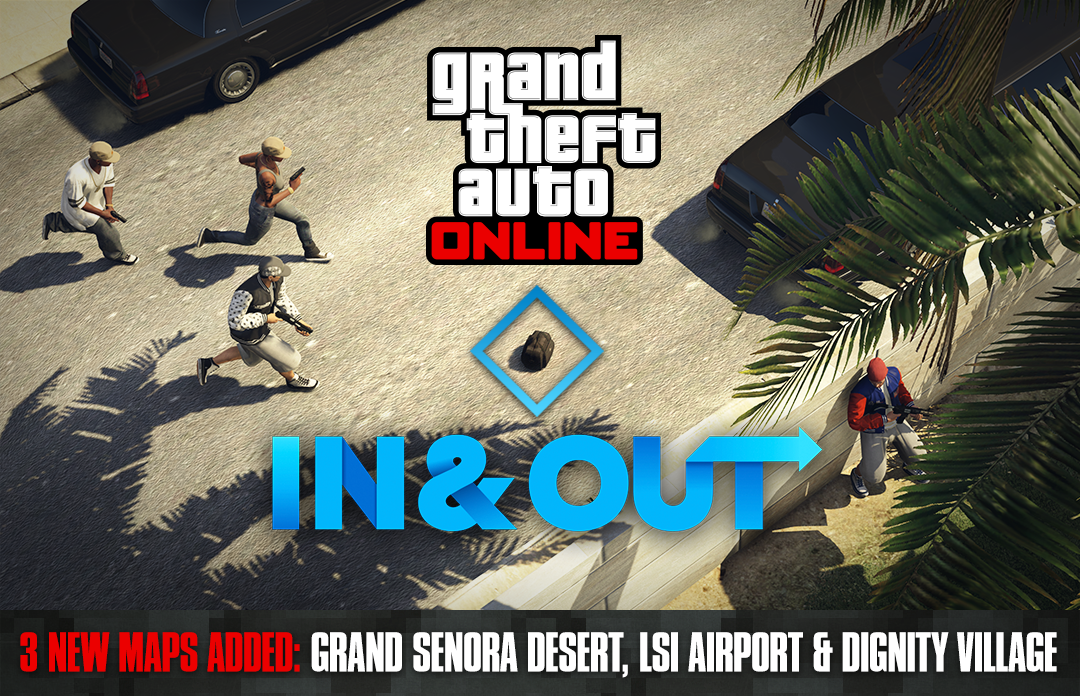 The number of maps on which to play In and Out doubles today in GTA Online, taking the Capture-style team play into brand new territory at the Grand Senora Desert, Los Santos International Airport and at Dignity Village. To see these maps painted red live in action, tune in today at 5pm ET on Twitch or YouTube for the Official Rockstar Games Live Stream with special guest Twitch streamer King Nappy and his friends from the GGG stream team, joining Rockstar to play through all three new maps and much more with the Rockstar Broadcast Studio Team. As mentioned above, all In and Out maps will earn you Double GTA$ and RP this week, no matter how or where you play them.